Affiliate Disclosure: I receive a small commission for purchases made via affiliate links.
With many skincare products marketed as anti-ageing, what do we actually need in our routine? There are 3 staples we recommend for the ultimate anti-ageing skincare regime – retinol, vitamin C and hydroxy acids. Each tackles the 3 major signs of skin ageing. These 3 signs being fine lines and wrinkles, uneven skin tone and dull skin. Keep reading for product recommendations and to learn how these skincare products do their thing.
Retinoids for collagen loss (fine lines and wrinkles)
Retinoid is used as an umbrella term for any compound derived from vitamin A (a vitamin A derivative). A vitamin A derivative possesses structural or functional similarities to vitamin A, but is not quite vitamin A. In some contexts, the term retinoid can also refer to prescription-strength vitamin A derivatives (such as tretinoin and tazarotene).
I'm sure you've also heard of retinol. It turns out that vitamin A and retinol are actually the same compound (they are just two different names for the same thing). Thus, retinol and any vitamin A derivatives you can think of – retinal (aka retinyladehyde or retinaldehyde), adapalene, retinoic acid, retinyl esters (such as retinyl propionate and retinyl palmitate), tretinoin and tazarotene – can be classified as a retinoid. Despite retinol not being a vitamin A derivative, but vitamin A itself, it is generally still considered a retinoid.
How do the different types of retinoids differ?
As I've alluded to above, vitamin A and retinol (aka all-trans-retinol) are technically the same compound.
However, retinol is not the most active form of vitamin A (if we want amazing skin). When we use retinoid products in the pursuit of perfect skin, it is not vitamin A (retinol) we can thank for this. For the most part, retinoic acid (all-trans-retinoic acid) is actually the compound producing the effects we want. So there has to be some chemistry going on once we apply these products, in order to produce retinoic acid (see below).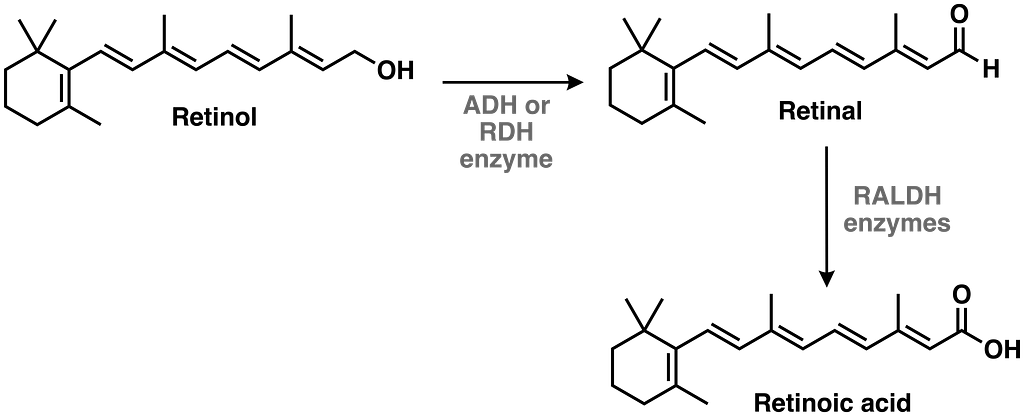 Retinol is converted to retinoic acid in two steps: firstly, alcohol dehydrogenase (ADH) or retinol dehydrogenase (RDH) enzymes catalyse the oxidation of retinol to retinal. The reverse reaction may also occur. Subsequent oxidation of retinal by retinaldehyde dehydrogenases (RALDH – of which there are several types) furnishes retinoic acid (this is an irreversible step).
With retinyl esters, these are first converted to retinol, which then undergoes the same two-step process as above. Or, as you can imagine, retinals only have the one step to go through to produce retinoic acid.
Retinoic acid for fine lines and wrinkles
Retinoic acid seeks to activate the three retinoic acid receptors (alpha, beta, gamma). Since it is a lipophilic molecule, it can diffuse through cellular and other phospholipid membranes. Once retinoic acid has bound to its receptors, inside the cells, modulation of gene (genes involved in cellular differentiation and proliferation) expression occurs. This results in the reduction of fine lines and acne, as well as increased cell renewal, collagen production and more. Everything we have come to expect of retinoids.
Which retinoid should I use?
If you have sensitive skin don't go for prescription retinoids – start with something less potent such as retinol (this is the go to for many). Since retinol (retinal and retinyl esters too) has to be first converted to retinoic acid, the concentration of retinoic acid at any one time is much lower and thus less irritating. Taking this even further, a lower concentration of any retinoid is always better for sensitive skin. It will take a little longer to see results from using retinol compared to retinoic acid, but will be all that most people require to see some good results.
For more information on retinoids, see this post.
Vitamin C for uneven skin tone
We know we should be eating plenty of vitamin C, but what's the deal with vitamin C serum?
Free radicals are highly reactive molecules with unpaired electrons that are known to damage various cellular structural membranes, lipids, proteins, and DNA. It is one of the widely accepted mechanisms that lead to skin ageing.
The body can be exposed to free radicals from environmental exposures (as well as intrinsic exposures), such as cigarette smoke, air pollution, and ultraviolet radiation from the sun. Consequently, the body employs antioxidants which aim to protect cells from the damaging effects of free radicals.
Vitamin C reacts rapidly with free radicals; it is widely understood that vitamin C's antioxidant properties are partly responsible for its biological activity.
How does vitamin C help with uneven skin tone?
Hyperpigmentation – a darkening of the skin that occurs due to an excess of melanin, for example, in the case of age spots, freckles, melasma, and post-inflammatory hyperpigmentation. Cosmeceuticals are commonly used to target hyperpigmentation; hydroquinone being a common example in the treatment of hyperpigmented skin conditions. However, hydroquinone has recently come under fire due to chronic adverse side effects such as discolouration of the skin, cataract, pigmented colloid milia, loss of elasticity of the skin, impaired wound healing as well as safety concerns.
Studies using vitamin C for hyperpigmentation
Studies have show that vitamin C acts as a reducing agent at various oxidative steps of melanin formation, hence inhibiting melanogenesis. Dermatologists therefore use vitamin C frequently for depigmentation of hyperpigmented spots on the skin.
A study compared the use of 5% ascorbic acid and 4% hydroquinone in female patients with melasma and found that there was a 62.5% and 93% improvement in appearance, respectively. Side effects were present in 68.7% of people with hydroquinone use, versus 6.2% with ascorbic acid. Despite hydroquinone being the better performer, vitamin C may have a role to play in the treatment of melasma, since it is mostly devoid of any side effects.
Note: Vitamin C's most active and well-studied form is known as 'L-ascorbic acid' and is present as ascorbate, a water-soluble molecule, in most biologic settings. So make sure to look for 'L-ascorbic acid' or 'ascorbic acid' on product labels (with or without the 'L' – they are the same compound, just the former is more descriptive). Finally, you want to aim for the percentage of vitamin C to be between 10 and 20% (for the greatest effect).
P.S. Vitamin C is a great anti-ageing skincare product since it is also required for collagen production, so in combination with a retinoid say goodbye to those fine lines! For more information on vitamin C and how to use it in combination with a retinoid, see this post.
Hydroxy acids for dull skin
So one day you woke up and realised your youthful glow was no longer there….your skin appears dull and tired. As we age our epidermis (top layer of the skin) gets thicker. Skin turnover slows down and as a result we see an accumulation of skin cells on the surface of our skin. This build up makes it harder for the skin to reflect light, hence the dull appearance.
To increase cell turnover and get that glowing skin back we are going to want to use hydroxy acids such as glycolic acid, salicylic acid or lactic acid. Topical acids have also been show to stimulate fibroblasts to produce collagen.
Retinoid top picks
Neutrogena Rapid Wrinkle Repair
First up, an affordable dermatologist favourite; this retinol product is also combined with glucose complex and hyaluronic acid to visibly reduce the appearance of fine lines and wrinkles.
L'Oreal Revitalift Derm Intensives Night Serum with 0.3% Pure Retinol
With 0.3% pure retinol this serum is formulated with ingredients like hyaluronic acid and glycerin. It is also fragrance-free, silicone free and paraben free.
Olay Regenerist Retinol 24 Max Moisturizer
Again, fragrance-free, this product contains the actives: retinol, retinyl propionate, palmitoyl pentapeptide-4 and niacinamide.
CeraVe skin renewing retinol serum
Dermatologists helped to develop this serum. Designed to help diminish the appearance of fine lines and wrinkles, it also helps to repair the protective skin barrier with 3 essential ceramides (1, 3 and 6-II).
La Roche-Posay Pure Retinol Face Serum with Vitamin B3.
Formulated with Pure + Gradual Release Retinol, Vitamin B3, and Glycerin this serum creates a triple anti-aging complex. Whilst also providing optimal effectiveness it is also suitable for sensitive skin.
The Ordinary Retinol 0.5% in Squalane
This serum contains 0.5% pure retinol in a moisturising squalane base.
Vitamin C top picks
Note: all recommendations below contain pure vitamin C (ascorbic acid) rather than its derivatives.
Neutrogena Rapid Tone Repair 20% Vitamin C Brightening Serum Capsules
This affordable favourite comes in capsule form to protect vitamin C from the environment and avoid its degradation. Although less cost effective per use, the product itself is generally more effective than non-capsule forms. This product also boasts 20% vitamin C.
Paula's Choice BOOST C15 Super Booster
Paula's Choice C15 super booster offers 15% vitamin C along with vitamin E and ferulic acid. The perfect blend!
La Roche-Posay Pure Vitamin C Face Serum
For those with less sensitive skin or acne prone skin, then this serum might be a good option for you. Along with 10% vitamin C, this serum also contains salicylic acid. This serum also contains hyaluronic acid – great for parched skin.
BeautyStat Universal Universal C Eye Perfector
Formulated especially for the delicate eye area, this product contains 5% vitamin C, along with hyaluronic acid and green tea extract.
The winner of many awards, this serum combines vitamins C (15%) + E with ferulic acid to maximize performance. This patented serum may be expensive, but is clinically proven to reduce combined oxidative damage from free radicals generated by UV, Ozone, and Diesel Exhaust by up to 41%.
Acid top picks
This face wash is particularly suitable for acne prone and oily skin since it contains salicylic acid. This face wash provides gentle exfoliation and also contains hyaluronic acid, niacinamide and ceramides.
Paula's Choice SKIN PERFECTING 2% BHA Liquid Salicylic Acid Exfoliant
Formulated with salicylic acid this gentle, leave-on exfoliant is a fast absorbing liquid that removes built-up dead skin cells and fights blackheads.
L'Oreal Paris Revitalift Bright Reveal Anti-Aging Peel Pads with Glycolic Acid
Formulated with glycolic acid these peel pads resurface dull, uneven tone and rough texture to reveal underlying youthful looking skin and reduce the appearance of wrinkles.
Key takeaways
We recommend 3 staples to tackle the 3 major signs of ageing:
Retinoids for fine lines and wrinkles
Vitamin C for uneven skin tone
Hydroxy acids for dull skin