Affiliate Disclosure: I receive a small commission for purchases made via affiliate links.
What is tretinoin?
Tretinoin aka all-trans retinoic acid (ATRA) is a prescription retinoid with established improvement in skin thickness, acne and fine lines. It can, however, be terribly irritating. Therefore efforts to generate less harsh retinoids that produce the same effects have been made.
How does retinoic acid (tretinoin) work?
In order for retinoic acid to target fine lines and acne, as well as encourage cell renewal and collagen production, the molecule seeks to activate the three retinoic acid receptors (alpha, beta, gamma). Since it is a lipophilic molecule, it can diffuse through cellular and other phospholipid membranes. Once retinoic acid has bound to its receptors, inside the cells, modulation of gene (genes involved in cellular differentiation and proliferation) expression occurs. This results in the reduction of fine lines and acne, cell renewal, collagen production and more. Everything we have come to expect of retinoids.
Whilst the known ligand for retinoic acid receptors is retinoic acid, which is why retinoic acid is the biologically active species, there are other OTC compounds that can produce similar effects (see the next section).
Retinol for anti-ageing
OTC alternatives to tretinoin (retinoic acid) for anti-ageing purposes do exist! Your best options for this are retinols.
How does retinol compare to retinoic acid (tretinoin)?
Retinoid is used as an umbrella term for any compound derived from vitamin A (a vitamin A derivative). A vitamin A derivative possesses structural or functional similarities to vitamin A, but is not quite vitamin A. Retinoic acid is a vitamin A derivative. However, it turns out that vitamin A and retinol are actually the same compound (they are just two different names for the same thing). Despite retinol not being a vitamin A derivative, but vitamin A itself, it is generally still considered a retinoid.
Retinol has anti-ageing effects similar to that of retinoic acid but is much less irritating. Retinol is actually converted to retinoic acid in our skin. Because of this, the concentration of retinoic acid at any one time is much lower and thus less irritating. As a result, it usually takes longer to see results with retinol, but it is still a very effective alternative.
Retinol is converted to retinoic acid in two steps: firstly, alcohol dehydrogenase (ADH) or retinol dehydrogenase (RDH) enzymes catalyse the oxidation of retinol to retinal. The reverse reaction may also occur. Subsequent oxidation of retinal by retinaldehyde dehydrogenases (RALDH – of which there are several types) furnishes retinoic acid (this is an irreversible step).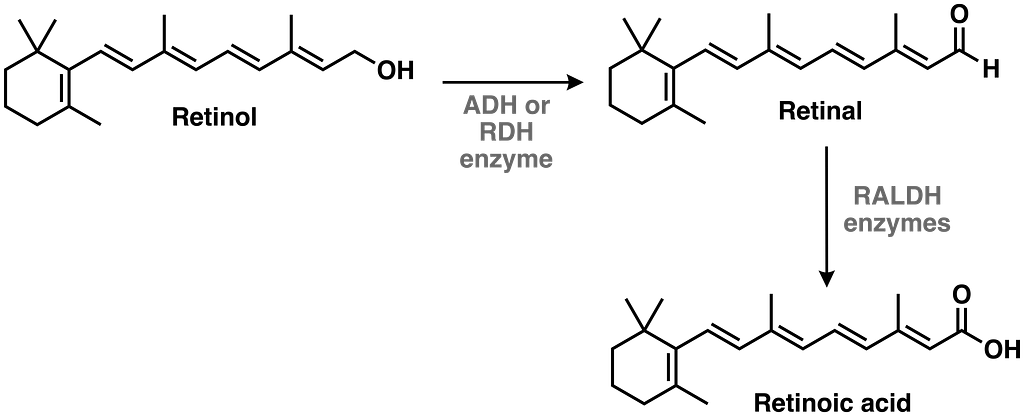 Below are some of our retinol top picks for all your anti-ageing desires.
Top picks
1) The INKEY List Retinol Serum, 1%
Key ingredients:
1% RetiStar stabilised Retinol
0.5% Granactive Retinoid
Squalane
2) Olay Regenerist Retinol24 Night Face Cream
Key ingredients:
Retinyl Propionate
Retinol
Palmitoyl Pentapeptide-4
Niacinamide
3) CeraVe Anti Aging Retinol Serum
Key ingredients:
Encapsulated retinol
Ceramides
Hyaluronic Acid
Niacinamide
4) No 7 Advanced Retinol 1.5% Complex Night Concentrate
Key ingredients:
0.3% Pure Retinol
Matrixyl 3000+ – No7's anti-wrinkle peptide technology
Bisabolol – the active component in chamomile helps to minimise irritation by calming and soothing the skin
Palmitoyl tripeptide-1
Palmitoyl tetrapeptide-7
5) The Ordinary Retinol 1% in Squalane
Key ingredients:
6) Peter Thomas Roth | Retinol Fusion PM Night Serum
Key ingredients:
Encapsulated retinol
Squalane
Vitamin C
Vitamin E
7) Neutrogena Rapid Wrinkle Repair
Key ingredients:
Retinol SA
Glucose Complex
Hyaluronic acid
Adapalene for acne
If you are wanting to treat acne using OTC products then adapalene is the best alternative to tretinoin. Whilst there is some anti-aging data on adapalene, it is mostly data derived from the use of 0.3% adapalene (this strength isn't available OTC). However, there is ample research into adapalene for the treatment of acne.
Adapalene is a third-generation topical retinoid – it was developed to improve the side effect profile compared to tretinoin. Adapalene is designed so that it is more structurally rigid than previous retinoid generations, which decreases its ability to bind multiple retinoid receptors, thus decreasing off-target effects. The FDA-approved adapalene 0.1% gel as an over-the-counter acne treatment in patients 12 and older in 2016.1
Multiple studies support that 0.1% adapalene gel is equally as efficacious in treating acne as tretinoin, whilst displaying enhanced tolerability.2
A meta-analytic study involving 900 people showed a mean reduction of 57% in total acne lesions treated with 0.1% adapalene gel for 12 weeks, comparable to a mean reduction of 53% observed in the 0.025% tretinoin group. In addition, the adapalene group showed an earlier onset of action and better tolerability compared to the tretinoin group.3
Top picks
The only product we'd recommend: Differin Gel was developed by dermatologists with adapalene as its active ingredient. The formula is oil free, alcohol free and fragrance free.
References
[1] Tolaymat L, Dearborn H, Zito PM. Adapalene. [Updated 2022 Jan 4]. In: StatPearls [Internet]. Treasure Island (FL): StatPearls Publishing; 2022 Jan-. Available from: https://www.ncbi.nlm.nih.gov/books/NBK482509/
[2] Kassir, M., Karagaiah, P., Sonthalia, S., Katsambas, A., Galadari, H., Gupta, M., Lotti, T., Wollina, U., Abdelmaksoud, A., Grabbe, S., & Goldust, M. (2020). Selective RAR agonists for acne vulgaris: A narrative review. Journal of cosmetic dermatology, 19(6), 1278–1283.
[3] Cunliffe, W. J., Poncet, M., Loesche, C., & Verschoore, M. (1998). A comparison of the efficacy and tolerability of adapalene 0.1% gel versus tretinoin 0.025% gel in patients with acne vulgaris: a meta-analysis of five randomized trials. The British journal of dermatology, 139 Suppl 52, 48–56.